PRODUCTION AND SALES OF CHRISTMAS S-HOOKS
PRODUCTION Of CHRISTMAS S-HOOKS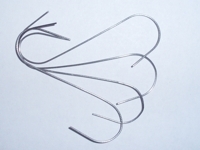 Our firm has been producing Christmas S-hooks since 2007. Since 2008 the firm has overtaken the production of an Austrian producer.
We deliver Christmas S-hooks to the Czech Republic, Germany, Italy, Poland, Austria, Hungary, Croatia, Slovenia, Bosnia-Herzegovina.
Packaging
Recommended packaging:
Packet = 50pieces of S-hooks
Box (2,500 pieces of S-hooks) = 50 pieces of packets
Carton (600 packets, 30,000 pieces of S-hooks) = 12 pieces of boxes
Euro-pallet = 36 cartons / weight including the pallet ca 260 kg

There is possibility of another packaging according to the customer's wish. We can print the packets according to customer's graphic design.
For the price offer, kindly contact us on jaromirskopalik(a)vanocnihacky.cz
(Be so kind and instead of (a) enter @, we protect ourselves from spam robots. Thank you.)

SALES OF CHRISTMAS S-HOOKS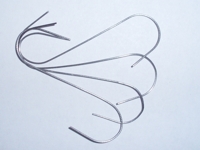 Directly in the firm:
Jaromír Skopalík - JS
Kojetínská 1247
767 01 Kroměříž
We offer co-operation
For the purpose of production enlargement we look for the sellers of Christmas S-hooks.